Part of building Palestinian youths' intellectual and interactive capacities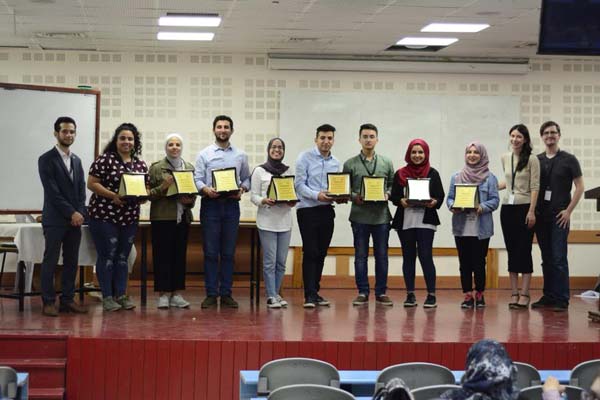 JERUSALEM| Al-Quds University won the first place in the Palestine Open Debate Competition for 2018 hosted by An-Najah National University, Nablus. A team of students from Al-Quds Bard College represented Al-Quds University in this contest, which saw the participation of debate teams from the Arab American University, Bethlehem University, and Birzeit University.
The event tackled a number of several touchy issues chosen by special committee, which also refereed the debate.
Led by Al-Quds Bard's Student-Led Initiatives Coordinator, Ms. Winta Mehari, the Al-Quds' team won the first place in the contest for their ability to articulate well-rounded arguments and respond with persuasive rebuttals. The issues presented for discussion touched on the way Palestinian young immigrants can support the Palestinian cause, whether employees should be expelled when interacting with political developments, and whether architects need to use modern construction materials in renovating buildings in ancient cites.
Mehari described the atmosphere of the competition as "friendly and of mutual-respect", "one which really observed the principles of democracy and free-expression". "Each team presented their own arguments to defend their opinions, refute the arguments of the opponent, and answer the various questions raised by the audience,"she said.
Ms. Winta Mehari emphasized that such non-curricular activities play pivotal role in enhancing the student's overall knowledge, fostering their skills of communication and interaction, promoting the values of mutual-respect, and using dialogue as a means to reach peaceful solutions to social disputes.
Al-Quds Univerity's team for this competition expressed their appreciation for the outstanding teaching methods and programs the university applies. Rahaf Salahat, Tala Saleem, Marah Abd El'al, Nadeen Yusuf, Ramiz Hayik, and Amir Qaddi said that such methods and programs motivate them to work harder, develop their personalities, strengthen self-confidence, give them the opportunity to recognize and respect others' opinions, and guide them in conducting constructive and positive debates.
It is worth noting that Al-Quds University has so far participated in several debates and discussions domestically and abroad. The talks presented by a number of its students and faculty in this year's TEDx forum received utmost appreciation from many experts and assessors.