Prof. Dr. Imad Abu Kishek
President of Al-Quds University
AQU is a distinguished transdisciplinary academic and research institution dedicated to providing students with an engaging learning environment and a supportive campus culture. Since AQU was established in 1977, it remains the only Arab university in the City of Jerusalem. We at AQU are honored to see you joining our academic family!
As a thriving academic center, our university offers top-quality education. Our fifteen faculties cover a broad range of disciplines, from medicine and health sciences to arts and humanities. Within these faculties, AQU offers 55 undergraduate degrees and 45 graduate degrees.. With the diversity of its academic programs, AQU offers something for everyone. More than 12,000 students are currently enrolled at AQU, 55% of whom are female.
Studying at AQU means learning from the best. We have over 700 faculty members who are experts in their fields, international partnerships with American and European universities, and affiliations with over 30 institutes. Additionally, we are engaged in innovative and groundbreaking research worldwide.
At AQU, we believe that education should be attainable for everyone. Therefore, we maintain the largest financial aid program among Palestinian universities and our Students Financial Aid Unit offers the best grants and scholarships in the West Bank. We also strive to serve the local community in every way possible. AQU provides higher education as well as community services within the Jerusalem area and the neighboring towns, villages, and refugee camps in the West Bank.
Here at AQU, we are devoted to your success. Our facilities and resources for teaching, research, sports, and recreational activities are among the best. All facilities and centers are equipped with the most advanced technological means of education and recreation, creating the proper environment for students and staff to excel in their work.
At AQU, we accompany you in your journey to grow and expand your knowledge and skills through new ideas and experiences, hoping that together, we can fulfill our mission and make a difference by creating a new learning environment, a stronger community, and a better society.
Prof. Imad Abu Kishek
President of Al Quds University
Dr. Imad Abu Kishek is the 4th President of Al-Quds University (AQU) and a Professor of Public Policy. He was elected President of AQU in 2014. Previously, Professor Abu Kishek was a member of AQU's senior leadership since 1999, serving as the Vice President for Administrative and Financial Affairs (1999-2011), and as the University's Executive Vice President (2011 – 2014).
Under Professor Abu Kishek's leadership, AQU saw the introduction of several academic programs that remain unique to the entire Middle East region. He also led the expansion of the University's campus within and around the Old City of Jerusalem, in addition to the establishment of several successful programs that seek, inter alia, to align the learning outcomes with the needs of the society. Professor Abu Kishek is also leading several initiatives that seek to foster an ecosystem conducive for social innovation and entrepreneurship among AQU students and the Palestinian youth more broadly. The Al-Quds Center for Innovation, Technology and Entrepreneurship is one example of such initiatives.
Under Professor Abu Kishek's presidency, AQU has broadened its international cooperation with universities and institutions of higher education from across the globe.
Those efforts have led to the conclusion of various partnerships and cooperation agreements, which culminated in the establishment of several joint centers and research initiatives. Examples of such programs include the Confucius Institute, the Indian Center of Excellence, the Al-Quds Academy for Global Justice (in partnership with former ICC Prosecutor Luis Moreno-Ocampo), and the Competitiveness Initiative (as a result of a cooperation agreement with Harvard).
Professor Abu Kishek is the representative of the presidents of Palestinian universities at COMSATS. He is also the elected representative of Palestinian universities in the Federation of Universities in the Islamic World. In addition, Professor Abu Kishek is a board member of several regional and international institutions such as the Jerusalem Endowment, the Al-Quds Academy for Scientific Research, the Palestinian Anti-Corruption Commission, and the National Palestinian Academy for Administration. He is also a member of the Palestine National Council, and the Council for Waqf and Islamic Affairs and Holy Sites.
Professor Abu Kishek holds a PhD in Public Policy from Northeastern University, and a Bachelor of Engineering from Al-Quds University.
President's Cabinet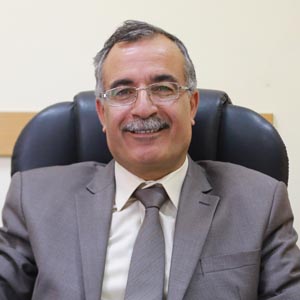 Prof. Hussain Jadoua
Vice President for Administrative and Financial Affairs
Hussein Jaddu is a Professor of Control Systems in the Department of Electronics Engineering at Al Quds University. He joined Al Quds University in 1992 as a lecturer and served the university in a number of academic and administrative roles, including: Assistant professor (1998-2005), associate professor (2005-2014), professor (2014-to date),  head of Electronics Engineering  Department (2002-2005), Dean of the the Faculty of engineering (2005-2009), Assistant Vice president for academic affairs (2009-2012)  and Vice President of Administrative and Financial Affairs (2012 to date).
Prof. Jaddu obtained his Bsc with distinction  in Electrical Engineering from Bir Zeit University in 1987 and his MSc with distinction  in Digital Systems from Hertfordshire University in England and he obtained the Phd with distinction in Information Systems from Japan Advanced Institute of Science and Technology in 1998. In 2004 he promoted to associate professor and in 2014 promoted to professor.
His research interest includes control theory, computational methods, optimal control, wavelets. He published more than 40 papers.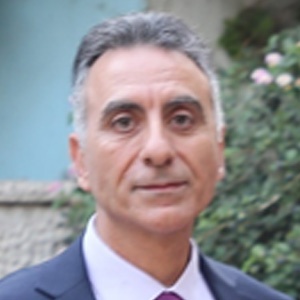 Dr. Hanna Abdel Nour
Vice President for Development and Planning
Dr. Abdel Nour already has more than 28 years of academic and administrative experience at Al-Quds University (AQU), a major Palestinian Higher Education Institution (HEI).  Throughout the years he did put all his efforts in the development of Electronics Engineering; he enabled the capacity building of academic staff members in the fields of Digital Signal Processing and Communications, stimulated the research activity in both fields, and initiated the nationally well-known Master Programme of Electronic and Computer Engineering in cooperation with the University of Bordeaux I in France.
Dr. Abdel Nour had consecutively been Chairman of the Electronic Engineering Department, Dean of the faculty of Engineering, Dean for Admission and Registration, and Dean of Post Graduate Studies.  At present, he is the Vice President for Academic Affairs.  He has been involved in the institutional setting, policies, and growth of a dynamic university that is imposing itself on the National level and is seeking a place on the global scene.  At present, and in his capacity of Vice President for Academic Affairs (as of September 2012), Dr. Abdel Nour is leading a set of reforms in several fields and at all levels to transform learning in AQU; one major project is the introduction in 2015 of the dual studies system in three fields of specialisation (a project financed by the German Government).
At the National level, Dr. Abdel Nour had been the first Palestinian National TEMPUS Office Coordinator for 20 months with all what this position entails in terms of undertaking raising awareness campaigns, promoting cooperation with European Universities, facilitating the design of new projects, evaluating projects submitted to ETF, and monitoring on-going projects.  He also undertook consultancy activities such as the development of benchmarks and program specifications for the IT & Electrical Engineering Fields in Palestine, and mapping Vocational Education and Training and preliminary analysis of the VET system.  At present (2015) he is leading four Palestinian universities, including AQU, in the development of graduate courses and innovation activities in the field of Food and Agri-Business (a project funded by the Dutch Government).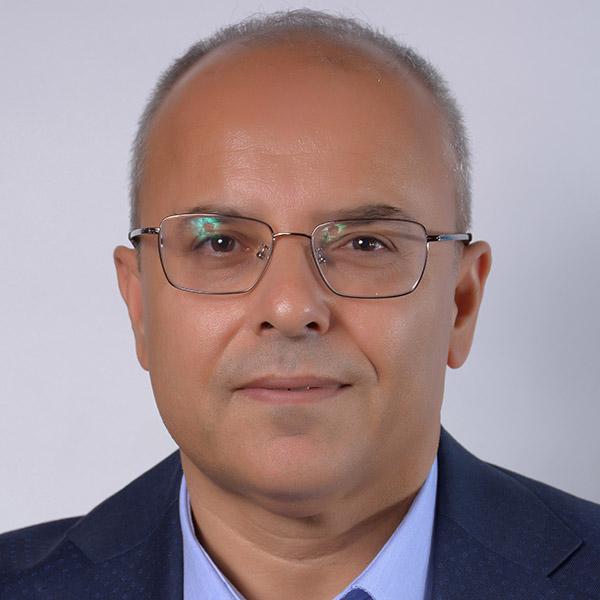 Prof. Moatasem Hamdan
Vice President for Academic Affairs
Motasem Hamdan is a professor of health policy and management at the School of Public Health, Al-Quds University, Jerusalem, Palestine. He has bachelor and master degrees in health management from Hacettepe University in Turkey between 1990-1996 and a doctoral degree in Medical and Social Science (Health Policy) from the Catholic University of Leuven (KULeuven) in Belgium in 2003. He joined Al-Quds in 1998 and was among the founding members of the School of Public Health, was a dean of public health between 2012-2019.
Prof. Hamdan is an expert in health policy and health system development and has a profound experience in the Palestinian health care system and international health organizations. He served as senior health policy advisor to the Palestinian Ministry of Health and consultant for many of national and international health organizations. He was the national program officer in the WHO office for Palestine between 2007-2011. Prof. Hamdan is an author of more than 25 peer reviewed articles, member of editorial boards of many internationally refereed journals and serves on a variety of national and international advisory boards.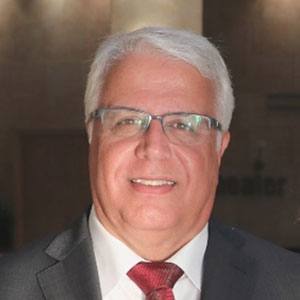 Prof. Dr. Imad Khatib
Executive Vice President of Jerusalem Campus
As Professor of fluid dynamics and Energy, Khatib holds a Ph.D. (1998) from Karlsruhe Institute of Technology (KIT) in Germany in Environmental Technology Engineering, an M.Phil. (1990) in renewable energy engineering from Cardiff University-Wales in Great Britain, and a B.Sc. (1985) in mechanical power engineering from Helwan University in Cairo-Egypt. Khatib has joined the Palestine Polytechnic University in 1986 where he founded and directed the Renewable Energy and Environment Research Unit (REERU) from 1999 to 2011, he has also founded and directed the Department of Scientific Research at PPU during 2002-2005, then was appointed dean of Scientific Research and Graduate Studies during at PPU during 2007-2009.  In 2011, Khatib joined College of Engineering at Birzeit University as a visiting professor until 2014, In July 2014 Imad Khatib was appointed the President of Palestine Polytechnic University until July 2021. Since September 2021, Khatib was appointed the Executive Vice President of AQU Campus in Jerusalem.
Professor Khatib was assigned as the principal investigator of Climate Modeling Group in the German BMBF funded program titled: "GLOWA-Jordan River (2003 – 2009)" that was directed to investigate the global climate change impact on the hydrology cycle of east Mediterranean basin, and in his capacity, he has contributed to the National Communication Report of the Climate Change: Mitigation and Adaptation (2015) in collaboration with the Clima-South Euro-Mediterranean Program. He has prepared the first National Energy Efficiency Action Plan (NEEAP 1) in a collaboration between European MED-ENEC and the League of Arab States, as well as being a senior scientist of the Dutch Government funded program: "Strengthening Palestinian Environmental Action Plan" (SPEAP) and of the World Bank METAP program for building national capacities in Environmental Impact Assessment (1999-2001). Khatib was assigned by the UN-ESCWA as a technical advisor to the ESCWA-Technology Center, and the UN-ESCWA-Science, Technology, and Innovation Observatories (STIOs), where he has established the national STIO in Palestine Academy for Science and Technology, in addition to being assigned by the UNESCO to prepare the STI National Framework Policy Report (2016). Besides, Khatib contributed, as a scientific reviewer, to the IPCC's Fifth Assessment Report (FAR), and the preparation of the UNEP 6th Global Environmental Outlook (GEO6), as a panelist of the UNEP GEO6 (2019-2020), and as an advisor the German BMBF Strategy for Fostering Innovation in MENA (2017-2020). Khatib has initiated/co-initiated several programs and projects that were funded by and implemented collaboratively with the EU-FP programs 5,6,7 and H2020, USAID, US-CEP, AFD, HPF, BMBF, WB–QIF, ESCWA, UNDP, UNEP, UNIDO, IDB, UPM, and IAP.
In 1999, Khatib was assigned as the advisor to the founder and president of Palestine Academy for Science and Technology, and since the beginning of 2001, he was appointed the Secretary-General, where he managed to direct and expand Palestinian scientific membership in several prestigious scientific organizations (e.g. IAC, IAP, IAMP, NAS, HRN, NAISC, and MAS), and to initiate and implement several national initiatives, including; the International Conference on Water: Values and Rights (2005, 2009) in collaboration with PWA and UNDP, the Environmental Field Center in Jericho (2003) in collaboration with GEF, the BMBF funded Palestine-German Science Bridge (2017-2025), in addition to many other initiatives.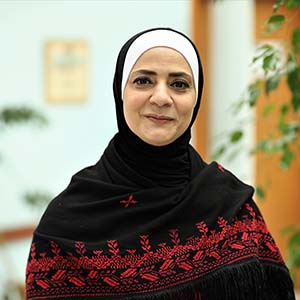 Dr. Rania Abu Seir
Assistant President for Medical and Health Affairs
Dr. Rania Abu Seir is an Associate Professor of Hematology at the Department of Medical Laboratory Sciences, the Dean of the Faculty of Health Professions, and the Assistant President for Medical and Health Affairs at AQU reporting directly to the President and serving as a member of the President's senior leadership team.
Dr. Rania Abu Seir is a leader, educator and researcher dedicated to improve health and health education by training future health care professionals and contributing to the scientific knowledge base through high-quality scientific research.
Throughout her 20 years at AQU, Dr. Rania has continuously worked on capacity building projects that aims to improve education and scientific research. She managed the World Bank Project for quality improvement of competency-based-education and training of health professions, through which she supervised the curricula development at the Faculty of Health Professions, and she is a member at the Academic Development Committee at Al-Quds University.
Dr. Abu Seir undertook several consultancy activities. She supervised and consulted on several capacity building projects in scientific and clinical research at the Palestinian Medical Technology Association (PMTA), Augusta Victoria Hospital, Arab Istishari Hospital, and Thalassemia Patients' Friends Society (TPFS). She consulted with the Ministry of Higher Education and Scientific Research as an external reviewer for the Accreditation and Quality Assurance Commission (AQAC) to evaluate new programs submitted by other universities. She developed and taught several intra- and extra-curricular courses to different programs according to international standards for several curricula development projects.
Dr. Rania has been a leader researcher in the fields of cancer, hematology and blood banking, and other fields of medical laboratory sciences. In addition, she is a member in several prestigious scientific international organizations and has represented Palestine and the university at several national and international conferences.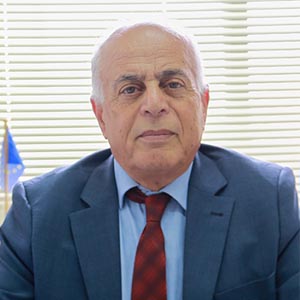 Prof. Dr. Hassan Dweik
Executive Vice President
Prof. Hasan Dweik, Professor in Polymer and industrial  Chemistry and  , currently the  Executive Vice President at Al-Quds University. He received his master's degree and Ph.D. from Aston University in United Kingdom in polymer science and Technology in 1983. He held several administrative positions at the university, as VP  for science and society ,VP for communications and development ,VP for academic affairs , he also served as Dean of Faculty of Science & Technology, Head of  Department of Chemistry and Chemical technology and Head of the Department of Food Technology.
He has participated in more than 120 international conference & meetings, and member of World Science Forum based in Paris.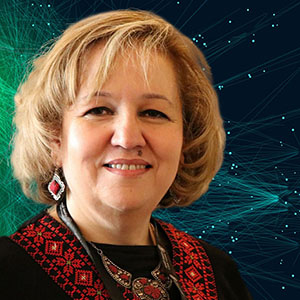 Dr. Safa Nassereldin
Presidential Secretary General
Dr. Safa Nassereldin is a well-recognized Palestinian leader and highly energetic educator, business and community leader who is engaged in multiple roles and initiatives through the Palestinian and Regional scene. With more than 20 years of intuitive management and experience in tackling challenges, Dr. Nassereldin is well known for making positive change. She seeks to inspire and empower other girls and youth in general.
She is currently Presidential Secretary General at Al-Quds University. She was Vice President for Jerusalem Affairs 2014-2021. She headed the Ministry of Telecom & Information and Technology for two years and successfully introduced positive change by enabling a competitive environment for Telecom. She holds a strong vision for the Palestinian Community through Education and learning. She was awarded the Chevalier (Knight) of the National Order of the Legion of Honour from the Republic of France Nov. 2017 as well as Arab Women Achievers in March 2019 and most Academician who served Jerusalem in June 2019.
She is an active board member in the Higher Council for Innovation and Excellence, Palestinian Incubator for Energy, Palestine Education for Employment EFE among others.
Dr. Safa Nassereldin holds a Doctorate in Electronic Engineering from ENSEIRB, Bordeaux I University in France, 2003.
Get in Touch with Us
We are happy to answer all your questions and inquires, please fill the below form and we will get in touch with you as soon as possible, or visit the Admission's Department at Student's Affairs Complex on the Main Campus at Abu Dis
We are social