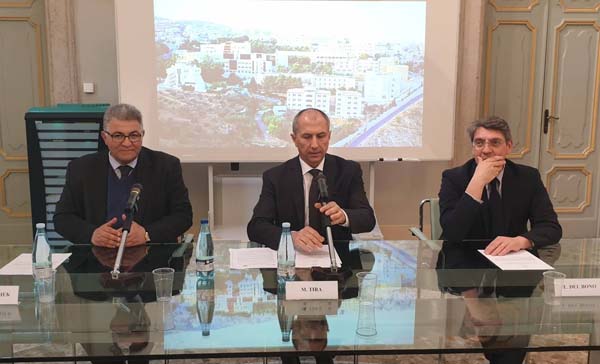 JERUSALEM | President of Al-Quds University Professor Imad Abu Kishek and President of Brescia University, Prof. Maurizio Terra, recently signed an agreement for partnership between both universities. The signing ceremony took place at Brescia University and was attended by the Mayor of Brescia, Mr. Emilio Del Bono, and head of the Association of Palestinian Doctors in Europe, Dr. Najati Al Rabi.
Professor Abu Kishek said the agreement between the two universities "opens the door for future cooperation in many areas, including the exchange of academics and students and the development of joint research projects and academic programs. The parties also agreed to raise the number of Al Quds University's medical students who will be dispatched to Italy to receive clinical training at Brescia University this year.
Extending his gratitude to the Italy-based Palestinian doctors for the key role they played to bring the partnership agreement to life, Abu Kishek pointed out that "this genuine Palestinian effort unquestionably serves the cause of Al-Quds (Jerusalem), both as capital and university. He emphasized that the Palestinian communities abroad are considered major contributors to domestic sustainable development and an asset to different Palestinian institutions.
Accompanied by Professor Maurizio Terra, Professor Imad Abu Kishek toured the faculties and facilities of Brescia University to learn about its thriving projects and programs. He expressed his appreciation for the level of development Brescia University has reached.
Al-Quds University has created unique partnerships with a multitude of leading universities around the world. It also implements an ambitious program of academic exchanges that assist in fostering its students' academic performances, elevating its faculty's research capacities, and transferring its highly appreciated academic and research experiences to the partners. The university's extensive network of international partnerships has put it in the list of the top leading universities of the region and has enabled it to function in compliance with international academic and research standards.