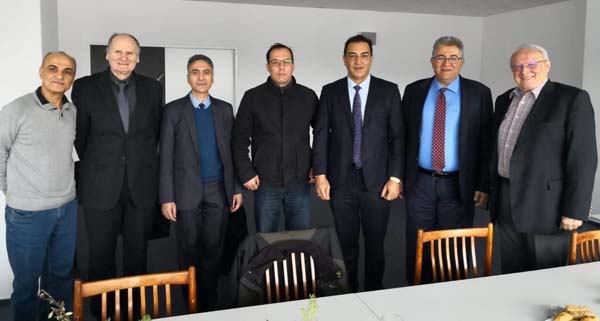 JERUSALEM | In a recent visit to Slovakia, President of Al-Quds University Professor Imad Abu Kishek signed key cooperation agreements with Slovak universities and research centers to jointly carry out scientific researches of mutual interest.
Professor Abu Kishek expressed his enthusiasm for expanding cooperation with Slovak institutions, saying that the agreements signed by the parties "lay the ground for tremendous productive academic and research cooperation between both sides in the future".
The research project to be developed in collaboration with Slovak Academy of Sciences is intended to relieve the pains and improve the lives of individuals afflicted with cancerous diseases and receiving radio therapeutic treatment. A team of medical researchers, including students, from Al-Quda University will join peers from the Slovak academy to measure the counter effects that natural substances might have on cancer agents.
Professor Abu Kishek also signed an agreement for academic and research cooperation with the Rector of Slovak Medical University, Professor Peter Šimko, which provides for developing joint researches and establishing programs for students and researchers' exchanges in the medical areas. Professor Šimko highly welcomed the agreement between both parties, offering to help promote joint projects to cover other areas.
The agreements between Al-Quds University and Slovak universities and research centers are a part of the multifaceted scientific agreements Professor Abu Kishek recently accomplished with several Europe-based institutions during a tour he made to enhance his alma mater's international partnerships and cooperation ties. They also come in line with Al-Quds University's mission to promote scientific research in Palestine to better meet the needs of the Palestinian community, mainly those of international applications.
The agreements just signed with the new European partners in Italy, Slovakia, and Germany, mark a new phase in the international academic and research cooperation relations which Al-Quds University has developed over the years with numerous universities, and other bodies, around the globe. These ventures correlate with its strategy of enhancing international scientific cooperation at all scales. While affording every possible support, the university also strives to provide its researcher team, academics, and students, with additional extensive academic and professional training to allow them accomplish researches that are relevant to the demands of the market and international expertise.