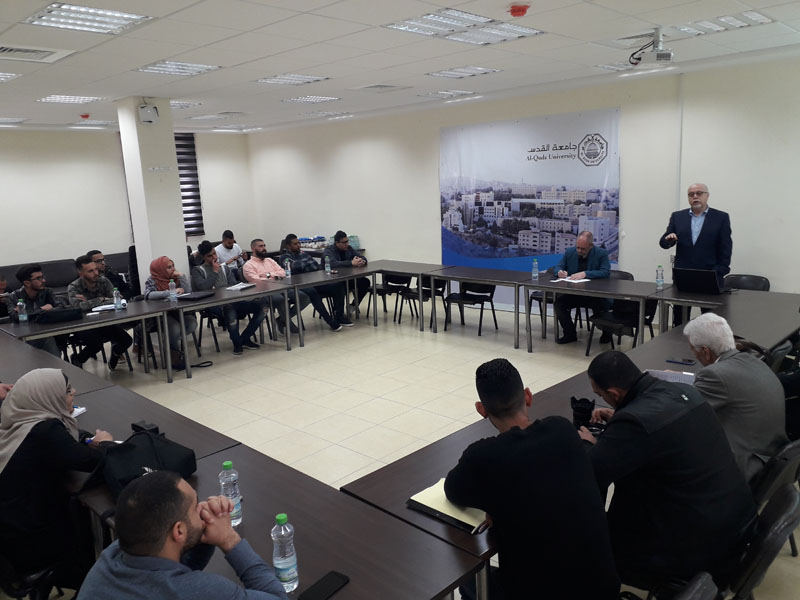 JERUSALEM | On Tuesday, March 12, Al-Quds University hosted Professor Shibley Telhami, director of the Center for World Opinion Studies at the University of Maryland, for a public lecture titled "Shifting American public attitudes on Israeli-Palestinian conflict and their impact on American policy".
Professor Telhami presented the findings of a number of studies he had carried out as a primary investigator on the public opinion that has formed in the United States since President Donald Trump's election campaign on issues relating to Islamophobia, the Middle East, and the Palestinian-Israeli conflict in particular. A recent University of Maryland public-opinion poll, he said, indicates that "there is a gap between the mainstream media and U.S. politicians on the one hand and the American public on the other. Also, "there is a growing sense among Americans that the Israeli government has too much influence on U.S. politics and policies".
He pointed out that the trend of the political divide in the United States, specifically the partisan divide in Congress, has the greatest influence on American foreign policy. He emphasized the need for understanding the magnitude of this division and its impact on U.S. foreign policy concerning the Middle East, the Palestinian question in particular.
Professor Telhami concluded that America "needs speech that's free of racism, for sure, but it also needs free speech". "It also must not restrict the mainstream conversation on the Israeli-Palestinian conflict when it's needed most".
The presentation was followed by interventions and questions by the students and academics in attendance on the scope of this shifting in the American public opinion which Prof. Telhami dubbed "favorable" in many of its aspects and that it is taking a course opposite to the U.S. administration's political one.
Besides being the director of its Center for World Public Opinion Studies, Professor Shibley Telhami is professor of international relations at the University of Maryland. He is also a senior political and strategic analyst at the Brookings Institution in Washington, DC, one of the most important centers of political studies in the world.
The lecture, which was organized in coordination with the Department of Political Sciences at Al-Quds University, is part of a series of panels, public lectures, and workshops that host international scholars, academics, and experts in the various scientific and intellectual fields, through which the university aims to boost its students' knowledge and encourage them to carry out researches on vital topics that are relevant to their fields of study and research interests.