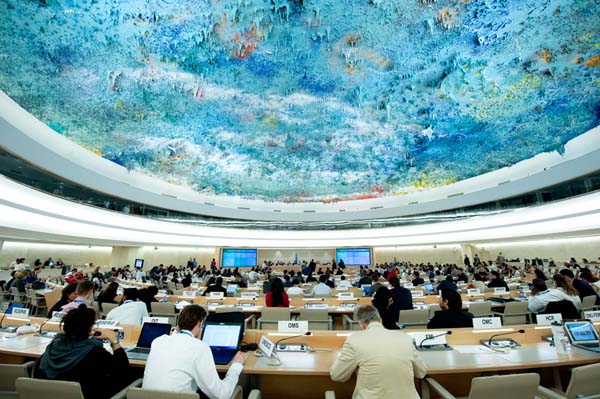 GENEVA | The Community Action Center (CAC) of Al-Quds University participated in the UN's 36th Human Rights Council Session. The Session, which was held in Geneva under Agenda item Seven, discussed the human rights situation in Palestine and other occupied Arab territories.
CAC delivered two oral interventions on the situation in occupied East Jerusalem. The first intervention focused on the collective punishment measures applied by the Israeli occupation as well as the mass child arrests carried out in response to the popular reaction to the closure of Al-Aqsa Mosque in August. The second intervention addressed the punitive residency and citizenship revocations, which the Israeli occupation has been employing against Palestinians.
The oral interventions were preceded by a written submission prepared by CAC and other Palestinian institutions including Aalah and Al-Haq. The submission was titled "Israel's Punitive Revocation of Residency Status from Palestinians from East Jerusalem and Revocation of Citizenship from Palestinian Citizens of Israel".
CAC also participated in an event organized by Badil titled "Israeli policies of Colonization, Annexation and Forcible Transfer: Lack of Accountability and Responsibility of International Community". CAC discussed the escalation of collective punishment as a tool of forcible transfer and internal displacement of Palestinians in occupied East Jerusalem.
CAC also held several meetings with different UN mechanisms and diplomats. In the meetings, CAC addressed the violations committed by the Israeli occupation in Jerusalem. CAC also contributed to the efforts against the attempts to remove the Human Rights Council's Agenda item Seven, which addresses the "Human Rights Situation in Palestine and other occupied Arab territories".
CAC, along with other Palestinian organizations, urged the European states that had refrained from speaking under the said item to live up to their responsibility of respecting and ensuring deference for International Humanitarian Law. As such, Palestinian NGOs encouraged states to take concrete steps to hold Israel accountable, including through cooperating with the database on businesses working illegally in settlements.
The Community Action Center is a rights-based organization, created in 1999 by Al-Quds University to empower the Palestinian population in East Jerusalem, by offering pro bono legal services, as well as encouraging community organization and empowerment. CAC also has an international advocacy unit which focuses on lobbying against human rights violations which occur in occupied East Jerusalem.