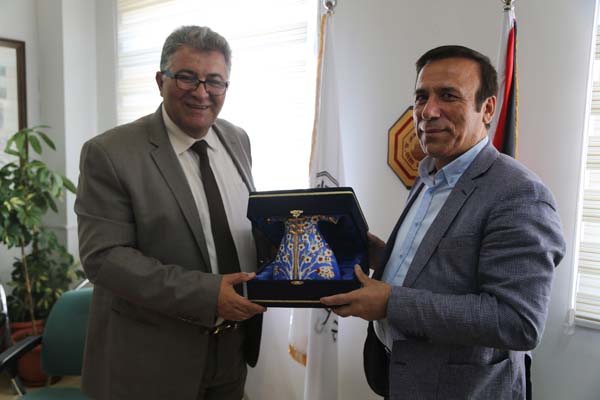 JERUSALEM – Al Quds University President Dr. Imad Abu Kishek has said that he is grateful for the relations between Palestine and Turkey and that it is an ongoing honor for AQU to be working closely with Turkish universities.
"Over the years, we've had many initiatives with our Turkish friends for which we are in deep appreciation. And I will go a step further and say that our ties with them are bound to grow," Abu Kishek said following a meeting with the mayor of Samsun, Turkey. Mr. Osman Ganesh, for his part, praised the excellent Turkish-Palestinian relations, particularly in the field of education, commending Al Quds University on its achievement "both the scientifical and academical."
A delegation from Samsun province, led by Mayor Ganesh, visited Al Quds University to explore ways of mutual cooperation.
President Abu Kishek also briefed the delegation on AQU's programs and research initiatives, and its role in promoting education and cultural activities within the city of Jerusalem.
Al Quds University has already built several successful partnerships with Turkish universities. Most recently, Al Quds and Marmara University have agreed to start a joint master's program in public administration and local governance.
Abu Kishek utilized the meeting as an opportunity to express the university's gratitude to Turkish president Recep Tayyip Erdogan, who pledged to build an on-campus dormitory for the university's female students.
Abu Kishek also met with a number of representatives accompanying the mayor to whom he provided a history of the Palestinian university, which was established in fulfillment of a 1931 resolution by the Arab League to found an Arab university in Jerusalem.
The visit concluded with a tour of the facilities at Al Quds University and the Abu Jihad Museum for Prisoners.