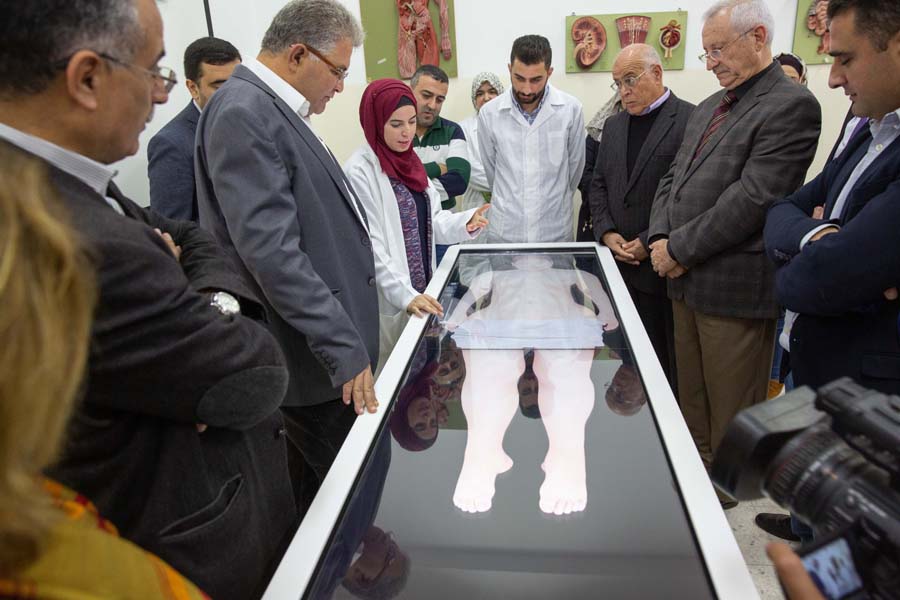 JERUSALEM | In line with its strategy of keeping abreast of  modern technology, Al-Quds University (AQU) has recently introduced virtual anatomy labs, the first of their kind in Palestinian Medical schools.
Sponsored by the England based Al-Quds Foundation for Medical Schools in Palestine and the UNDP, the newest high-tech software will be used to perform virtual dissections, which will enhance the students learning by providing them with medical information in an innovative way to better meet the needs of the market.
Prof. Abu Kishek stressed the importance of these innovative laboratories which are a milestone in educational healthcare technology. He said that these labs will enhance the students' anatomy experience and boost the skills of the administrators and students interacting with this kind of technology. In this context, he reiterated that Al-Quds University is striving to enable its Faculty of Medicine to keep pace with the latest advances in science.
AQU's Anatomage labs are an efficient source of information in many subjects that are taught at the Faculty of Medicine, such as anatomy, embryology, histology and pathology. They also function as an integrated system that will be applied in performing medical imaging and studying real medical conditions.
The anatomy labs contain the equipment and software needed to provide efficient practical teaching to medical students in their basic stages as well as to the students of Dentistry and Pharmacy. They contain illustrations for all parts and organs of the human body, in addition to selected models that are dedicated to perform clinical interventions such as intravenous cannulation.
Al-Quds University is highly interested in promoting scientific research. It continuously encourages its students to engage in research to support their learning and benefit the Palestinian society.  For this purpose, the university has established a multitude of cooperation ties and partnerships with several universities and research centers around the globe to exchange knowledge and expertise and to offer quality training to its students, particularly the medical students.
Al-Quds University's Health Complex houses five faculties, namely the Faculty of Medicine, the Faculty of Dentistry, the Faculty of Pharmacy, the Faculty of Health Professions, and the Faculty of Public Health. In addition to their academic programs, these faculties provide health services to the different segments of the Palestinian community.