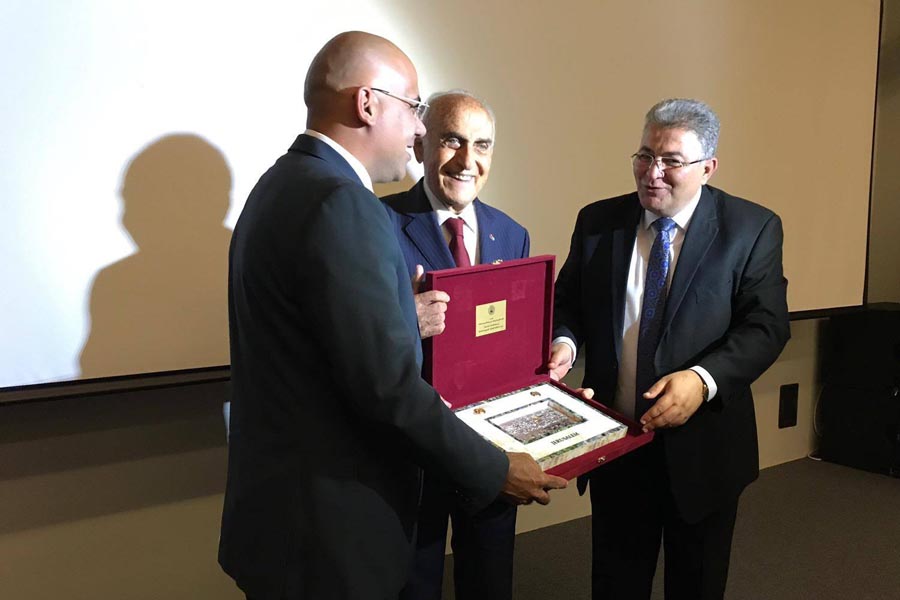 JERUSALEM | During a ceremony held at the National Library in the Lebanese Capital of Beirut, President of Al-Quds University Professor  Imad Abu Kishek launched  Al-Maqdisiyah, the first of its kind Arab peer reviewed journal that seeks to publish researches and articles on Jerusalem for  academic and public knowledge.
The launch ceremony was held under the patronage of the Lebanese Minister of Culture, HE Dr. Mohammed Daoud, and attended by Palestinian and Lebanese official and public figures.
In his keynote speech, Prof. Abu Kishek noted that Al-Maqdisiyah (المقدسية) was fruit of joint cooperation between Al-Quds University's Center for Jerusalem Studies and Dar Ab'ad for Printing, Publishing, and Distribution in Beirut. The peer-reviewed journal, he explained, aspires to enhance the deep historical ties between Lebanon and Palestine. "Al-Maqdisiyah originates in Jerusalem, the city of peace and worship, and reaches out to Beirut, the home for culture, with the aim of defending Jerusalem and its historical and cultural heritage and conveying its message of peace and love," he added.
In this respect, Prof. Imad Abu Kishek emphasized Al-Quds University's message of providing the Arab readers with the opportunity to access the broad vital knowledge and information about Jerusalem in all aspects of life through a reliable source, which will help satisfy the Arab reader's need for knowledge about Jerusalem and the Jerusalemites.
The quarterly update publishes articles and researches that cover news and topics of interest to the Arab reader in a scholarly method. It aims to increase awareness about issues relating to Jerusalem and to refute the fabricated narrative vis-à-vis.
Al-Maqdisiyah's editorial board highly welcomes contributions from around the world that are committed to consolidating the Arab identity of Jerusalem and supporting its just cause.