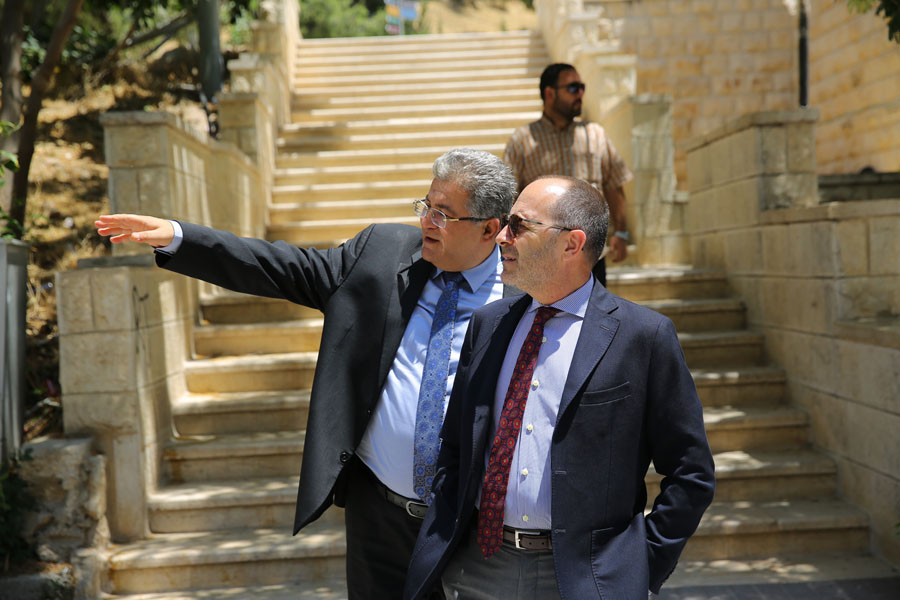 JERUSALEM | Al-Quds University President Professor Imad Abu Kishek received in his office on the main campus the Mexican Representative to Palestine Mr. Pedro Blanco Perez who visited the university to learn about its history and programs, and to discuss joint academic and research cooperation between Al-Quds University and Mexican academic and research institutions.
Prof. Abu Kishek briefed the Representative of Mexico about the university's various faculties and programs and the unique scientific achievements it has made over the years as well as the far reaching services it offers to the Palestinian community.
Abu Kishek also explained the partnerships and cooperation schemes that the university has forged with several universities and research centers in the region and elsewhere in the world, which are "part of the university's continuing strategy of development and international cooperation". In this regard, Prof. Abu Kishek emphasized that Al-Quds University is very much interested in enhancing collaboration with Mexican institutions, including research, faculty, and student exchanges.
Mr. Blanco Perez, for his part, said that he visited Al-Quds University to promote Mexican culture and push cooperation ties forward, pledging to encourage Mexican scholars and students to visit Palestine and Al-Quds University to do joint research and learn from the Palestinian outstanding academic experience.
Al-Quds University already shares several exchange programs with the Mexican side which aim to serve its students in their academic programs and promote cultural understanding and scientific cooperation between Palestine and the Latin American country.