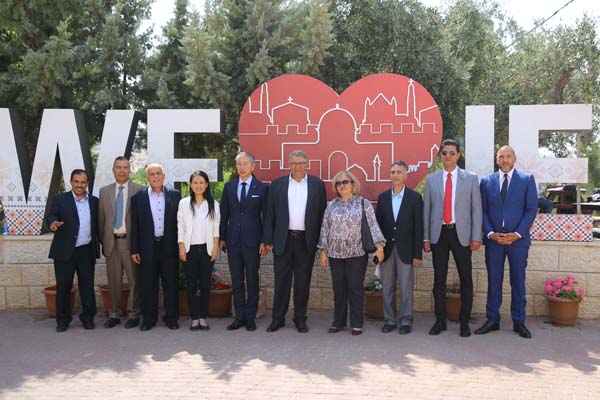 JERUSALEM | In another contribution to the development of Palestinian economy, Al-Quds University recently signed an agreement with the Japanese Government to jointly cooperate in the area of Information and Communication Technology (ICT).
Signed by Al-Quds University President Professor Imad Abu Kishek and both Ambassador Mr. Takeshi Okubo and Japan International Cooperation Agency (JICA) coordinator in Palestine, Ms. Yoko Seto, the cooperation agreement provides for launching several joint projects to develop Palestinian ICT sector in the spheres of Al-Quds University and the Jericho Industrial and Agricultural Park.
Professor Abu Kishek said this agreement correlates with the university's strategy of linking the educational outputs with the pressing needs of Palestinian society and labor market, "within the framework of developing the various sectors in Palestine, mainly ICT". "The implementation of the agreement on the ground will contribute to building the students' scientific and practical capacities and help them create new jobs," he added.
Abu Kishek expressed his gratitude to the Japanese Government for their efforts in supporting Al-Quds University and sponsoring its medical complex through the unceasing donation of up-to-date medical equipment and resources.
The Director of the Center for Technology and Excellence at Al-Quds University, Dr. Radwan Qasrawi, who was in attendance, highlighted the center's future plans in relation to ICT as well as the many achievements they have made. According to Dr. Qasrawi, this agreement "marks a new phase in the joint cooperation between the two parties and aspires to develop several collaborative technology-projects that will serve the Palestinian economy and enhance the students' overall scientific knowledge".
Japanese Ambassador to the State of Palestine Mr. Takeshi Okubo described the signing of the bilateral agreement as a historical moment and first of its kind in ICT between the Japanese Government and a university in Palestine. He pledged that the Government of Japan "will continue to support Palestinians, to provide a better life for them, and to enhance their economic and scientific capabilities".
Ms. Yoko Seto, for her part, reiterated the importance of this agreement in providing job opportunities for Al-Quds University graduates.
Al-Quds University always strives to create an apt academic environment that motivates its students to create and transform their ideas into real projects which are able to contribute to the advancement of the Palestinian economy and reduce unemployment rates among youths. As a pioneer in social-responsibility initiatives, the university, last year, launched what it named "The Business Hub" to accelerate business projects and empower Palestinians from Jerusalem in the face of the many challenges.