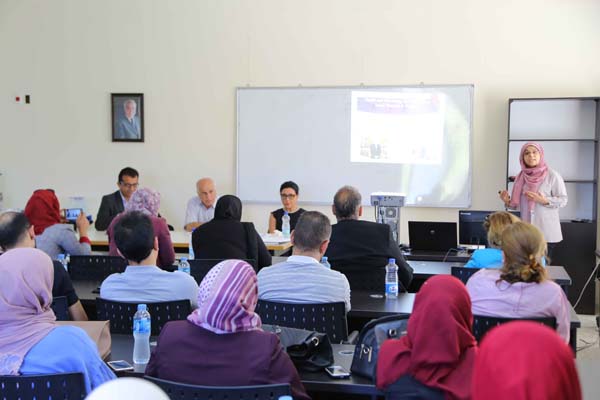 Al-Quds University and Boston College research partnership plants the seeds for future worldwide academic collaboration
Scientific research results present solutions to challenges facing Palestinian society.
JERUSALEM – Within the framework of tightening research cooperation between Al-Quds University and other higher education institutions and research centers around the globe, the Department of Social Work's Dr. Najwa Safadi and her counterpart Dr. Scott Easton from Boston College recently concluded a joint study entitled "Health and Well-being of Public Sector Social Workers in Palestine," that aims to solve issues domestically while at the same time plans to attract other regional players to join forces in academic matrimony.
The collaborative study between the two reputed institutes of Al-Quds University and Boston College expects to yield recommendations which will reduce the pressures on social workers, examine the reality of the mental health of Palestinian social workers, and review the working conditions from the perspective of Palestinian social workers.
Dr. Safadi called for expanding research in a sequential manner in the same field over the coming years with Boston College while via Skype Dr. Easton expressed his pride and happiness for the research partnership between Al-Quds University and Boston College. Similar to his counterpart, he also predicted that this venture would encourage more joint studies and pave the way for robust exchanges of research and academic expertise.
Al-Quds University Vice President Dr. Hassan Dweik hailed the university for its research team that effectively and efficiently contributed to scientific research in Palestine by providing solutions to the various challenges and problems facing Palestinian society and abroad.
"Hundreds of social workers in the governmental and non-governmental institutions are graduates of Al-Quds University," said Dr. Dweik. "Many of our Social Work graduates have pursued higher education at renowned world universities," he added.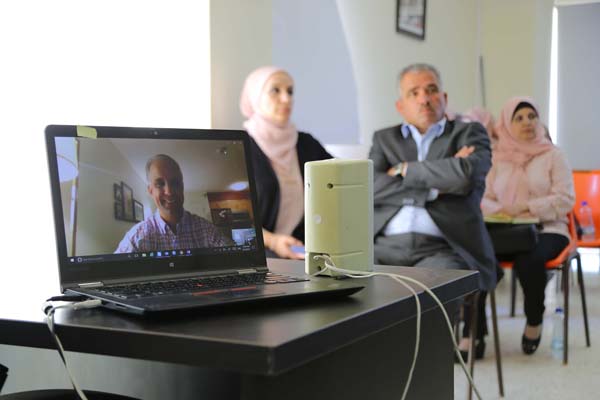 Assistant Deputy Minister for Directorates affairs at the Palestinian Ministry of Social Affairs, Mr. Anwar Hamam, who was also in attendance at the announcement of the joint study's findings, echoed the sentiments of Vice President Hassan Dweik on the pertinence to promote Palestinian social workers locally, regionally and globally.
According to Dr. Dweik, Al-Quds University "enjoys a broad network of international relations that has led to the establishment of research partnerships with a wide array of prestigious universities and scientific research centers worldwide."
Al-Quds University's Dean of Scientific Research, Dr. Elham Khatib, Head of Department of Social Work Dr. Rula Hardal, a host of social workers from the Ministry of Social Affairs and other Palestinian universities participated in the Dr. Safadi chaired-seminar that also touched upon the recommendations reached, including the need to provide ongoing psychological support to social workers which will alleviate the pressures of the work environment.
Stressing the importance of sustaining contacts, Mr. Hamam offered praise for the ongoing cooperation between the Palestinian Ministry of Social Affairs and Al-Quds University in multi joint programs and projects. In particular, he referred to the "Best Disability Friendly University" initiative. The Ministry of Social Affairs selected Al-Quds University to serve as a role model to other universities on this matter.
Dr. Najwa Safadi is an assistant professor at the Department of Social Work of Al-Quds University, the first of its kind to to be established in Palestine. She holds a PhD degree from Boston College and a Master's from McGill University in Canada. She has published several research papers in international refereed journals, mainly on issues of social policies, poverty, social justice, and government's performance in the field of social services, in addition to international assistance and civic participation in the countries of Global South in general and Palestine in particular.
Dr. Scott D. Easton is an associate professor and the chair of the Health and Mental Health Concentration at Boston College School of Social Work. As a Rockefeller Fellow through Harvard University, Dr. Scott spent one year of study and service in Jerusalem and the West Bank. He has published several publications in leading international journals specializing in mental health and trauma recovery, as well as in social policy and decision-making issues in the Middle East.
Al-Quds University is a research intensive university based in Jerusalem, Palestine. Established in the late 70's, Al-Quds remains the only Arab university in the city of Jerusalem. It currently offers 105 undergraduate and graduate degree programs, taught through its fifteen degree-granting faculties and institutes.