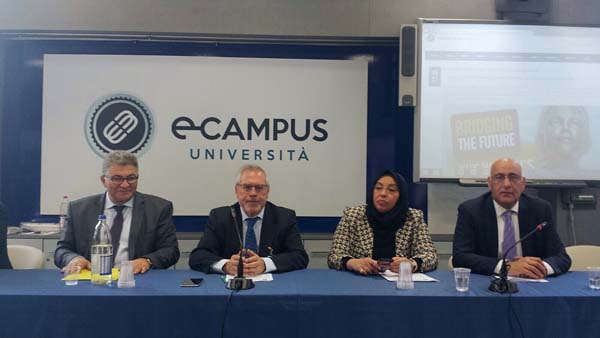 President Abu Kishek invites guests to AQU for next conference
JERUSALEM – Al-Quds University and eCampus held in Naples, Italy last week first joint international conference titled "Bridging the future: the Women's perspective". The conference, which is a culmination of a strategic partnership agreement signed last month between the two universities, was opened by President Imad Abu Kishek of Al-Quds University, President Enzo Siviero of eCampus, and Shekha Fadia Saad Sabbah from Kuwait.
The decision by Al-Quds University to co-organize this conference further proves the institution's growing commitment to urgent global issues that require joint and concerted efforts to address.
This conference joins the long list of other summits that Al-Quds University has recently sponsored or co-organized.
"Seeing Al-Quds University's name at global functions has become custom," said President Abu Kishek. Several international organizations and universities work closely with Al-Quds University due to "the reputation the institution has for academic excellence, quality education and also bringing about change," he added. In addition to delivering a keynote address, President Abu Kishek also chaired the first session at the conference in Rome alongside former Jordanian Minister of Social Development Reem Abu Hassan.
Several prominent and high-ranking figures from Saudi Arabia, Egypt, Italy, Tunisia, Greece, Lebanon, Morocco, and Jordan also attended the conference. President Abu Kishek's expressed Al-Quds University's desire to host the next conference at the university in Jerusalem, to continue the dialogue on issues of global concern.
Al-Quds University (AQU) is a collegiate research university based in Jerusalem, Palestine. Established in 1984 as the only Arab university in the city of Jerusalem, AQU currently offers 93 undergraduate and graduate degree programs, taught through its fifteen degree-granting faculties.