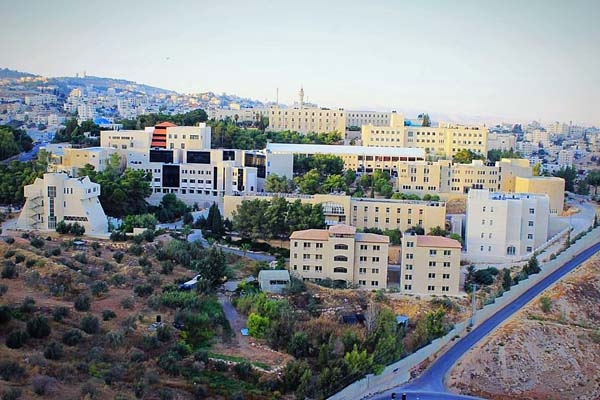 President Abu Kishek congratulates Palestine and says honor is a reminder of university's commitment to Jerusalem
CARIO – In yet another significant achievement, Al-Quds University won first place as the most socially responsible university in the Arab world at the "Annual International Competition on Civic Engagement", organized by The American University (AUC) in Cairo.
President Imad Abu Kishek of Al-Quds University congratulated the University's community and the Palestinian people on this achievement. Several Arab universities participated in the competition, the final round of which was held at AUC's campus in Cairo. "This is recognition of Al-Quds University's incessant contributions to the Palestinian community, especially to the alleviation of the hardships endured by Palestinians living in occupied East Jerusalem," he said.
The honor in Egypt comes as Al-Quds University is undertaking a number of initiatives to help the Palestinian community in Jerusalem withstand measures imposed by the Israeli authorities that are, according to several international organizations, intended to displace Palestinians from the Occupied Old City of Jerusalem and alter the city's demographics. By imposing high taxes, denying building permits, and insisting on discriminatory residence revocations on the Arab population, Israeli authorities are using these measures to drive Palestinians out of the city.
Annually, Al-Quds University allocates close to $6 million US Dollars of its budget in educational, legal, social and cultural services to Palestinian Jerusalemites.
One such initiative is that of Al-Quds University's Community Action Center's pro bono legal services from which thousands of Palestinians have benefited. For its legal services to Palestinians, its run and care of a public library in the Old City as well as its Center for Jerusalem Studies, the jury awarded Al-Quds University first place. Assistant President for Development and Innovation Dr. Issam Ishaq represented Al-Quds University.
"In the heart of our university, there is a large sign in red that reads 'we love Jerusalem.' This sign echoes the Palestinian people's feelings and grip on Jerusalem. Being granted first place in this international competition is a stern reminder of our commitment and how we will never stop working there," President Abu Kishek said.
Al-Quds University (AQU) is a collegiate research university based in Jerusalem, Palestine. Established in 1984 as the only Arab university in the city of Jerusalem, AQU currently offers 93 undergraduate and graduate degree programs, taught through its fifteen degree-granting faculties.