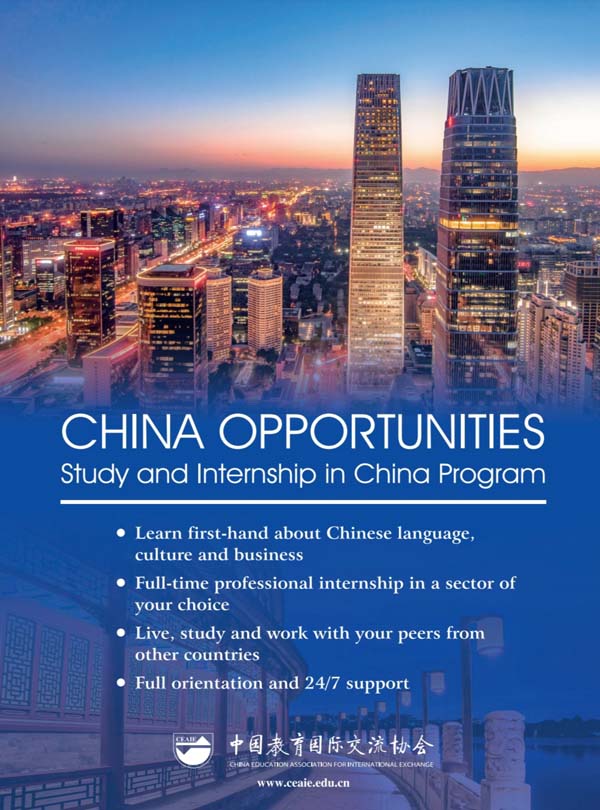 China Education Association for International Exchange (CEAIE) released a guidebook on Study in China, aiming to help international students learn more about educational opportunities provided by China's educational institutions. In this guidebook, students can find information about study in China, including application process, scholarship opportunities, life in China, etc. The guidebook is attached to this email for your reference.
Furthermore, CEAIE provides Study and Internship in China program for international students. The current sending partners include British Council, Universities Australia, Irish Universities Association, etc. Here please find the introduction of the program in the attachment.
CEAIE is a non-profit organization to promote educational exchanges and cooperation between China's educational community and other parts in the world. CEAIE would love to help students and teachers from Al-Quds University to pursue educational opportunities in China. Here please also find the CEAIE programs listed on their official website:
http://en.ceaie.edu.cn/article/server?type=0&purpose=0&country=0&letter=0&time=0&participant=0&columnid=13.
If you are interested in any specific program in the list, please contact Ms. Xiao Lei, Director of China Education Opportunities at xiaolei@ceaie.edu.cn and keep the Academic International Office in the loop.