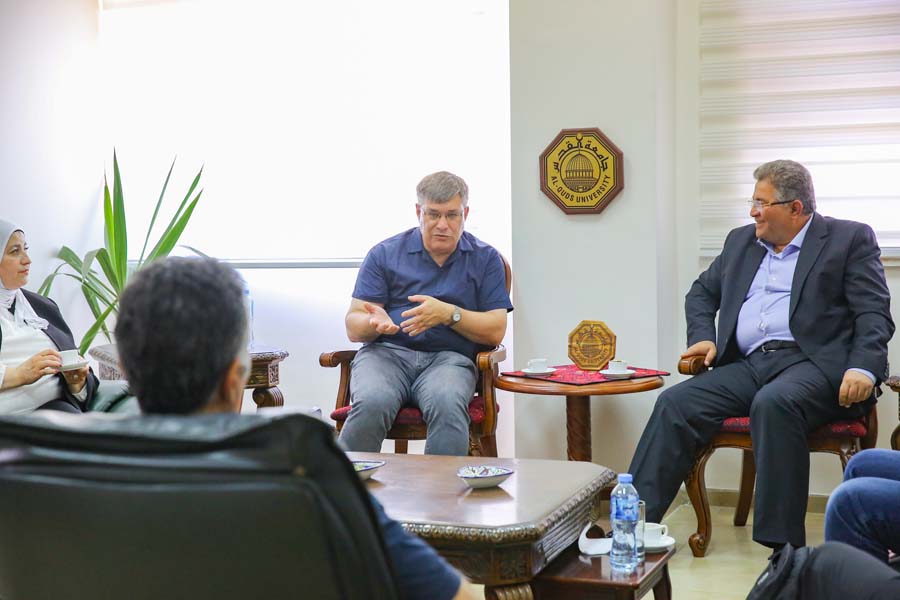 JERUSALEM | Within the framework of Al-Quds University's ongoing efforts to enhance joint cooperation with international partners, President of Al-Quds University Professor Imad Abu Kishek received a delegation from Heinrich Heine Universität Düsseldorf (HHU), Germany.
The delegation included the Dual Studies' academic and administrative directors, along with a prominent faculty member.
In the meeting that was held at Prof. Abu Kishek's office on the main campus, both parties discussed the progress of the Master's program of European Studies that is sponsored by the German government and jointly implemented by both universities. Prof. Abu Kishek noted that "this unique program in Palestine was created in response to the growing needs of the Palestinian society, and is in line with the university's internationalization strategy that seeks to accommodate new developments in the area of scientific research".
Officials from AQU and the German delegation met with the group of students who have completed their first year of study in the Master's of European Studies and are preparing to move to Dusseldorf University to pursue this degree.
Prof. Abu Kishek expressed his gratitude to the German government and institutions for their big role in supporting education in Palestine. He drew on the Dual Studies program that is extensively supported by the German government, and gives the opportunity to Palestinian students to combine theoretical education with practical training in partnership with Palestinian companies.
Praising Al-Quds University's advanced academic programs and outstanding research achievements, the German delegation expressed their enthusiasm to continue to work with the partnering Palestinian university to further develop the joint Master's program of European Studies as well as other fields of mutual interest.
According to the partnership agreement between both universities, Al-Quds University students have the opportunity to exchange experiences with European peers and utilize modern international knowledge in the areas of academic education and scientific research.
Prior to the German delegation's visit, Prof. Imad Abu Kishek made a key visit to Germany in which he signed agreements of joint cooperation with a number of German universities and institutions, including Hamburg University of Music and Theatre and Ortel Mobile. These agreements provide for expanding academic and scientific cooperation and students exchanges and training.