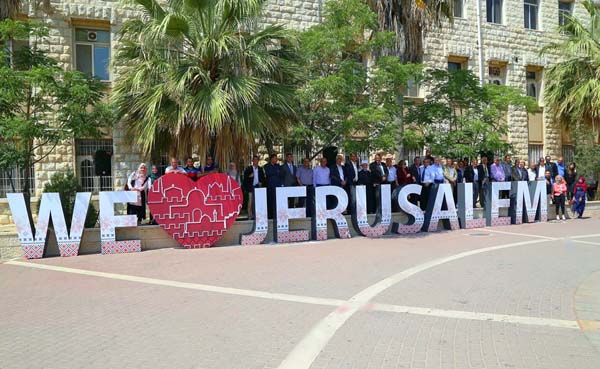 JERUSALEM – Another fall semester is off to a successful start at Al Quds University. Students returning to school after the summer break are signing up for classes. Others are lining up in front of the university's bookstores to secure copies of their required textbooks. In the background, groups of international visitors are already touring the campus, visiting its museums, and taking photos in front of the "We Love Jerusalem" sign, which has recently become a touristic attraction, and one of the campus's landmarks.
In the last few years, the university has been buzzing with diplomatic activity with envoys from all five continents shuttling to this leading Palestinian Institution.
Most recently a French delegation has been at the AQU Jerusalem campus first and foremost to show solidarity with Palestine and as University President Dr. Imad Abu Kishek says, "do a little business with AQU."
"It's about reinstating our academic relations — where we have been, where we are and most importantly where we are going," said Dr. Imad Abu Kishek after meeting Rezé Municipality International Relations Director Ms. Laurence Gourvil. Madam Sandrine Mansour-Mérien, author of L'histoire occultée des Palestiniens (1947 – 1953), who is an experienced researcher at the French Diplomatic as well as a lecturer at the prestigious University of Nantes, was also part of the delegation.
"They come here because AQU has a lot to offer. That's what these meetings are about actually, reaffirming existing partnerships, establishing new ones to find catalysts for new cooperation initiatives with French academic institutions," added Abu Kishek.
Projects vary in size from the simple but necessary student/faculty exchange programs or as large as aggrandizing development in the areas of scientific research, engineering and technology. One such project is an ongoing exchange program between AQU and Science Po, from which dozens of students from both schools have benefitted.
AQU has several joint programs and partnerships with European, American, and Asian counterparts. These partnerships are part of AQU's strategy to expand research and knowledge through cooperation in different scientific fields.
These programs, along with the already diverse academic programs at AQU, have turned the university into a cultural hub. This is reflected in the diverse faculty and student body, which includes more than forty nationalities.
The delegation was also briefed on the activities of Al Quds University in the Old City of Jerusalem and the daily challenges on campus, which are a reflection of the complex political reality in Palestine.
Al-Quds University (AQU) is a national research university based in Jerusalem, Palestine.
Established in 1984 as the only Arab university in the city of Jerusalem, AQU currently offers 93 undergraduate and graduate degree programs, taught through its fifteen degree-granting faculties.