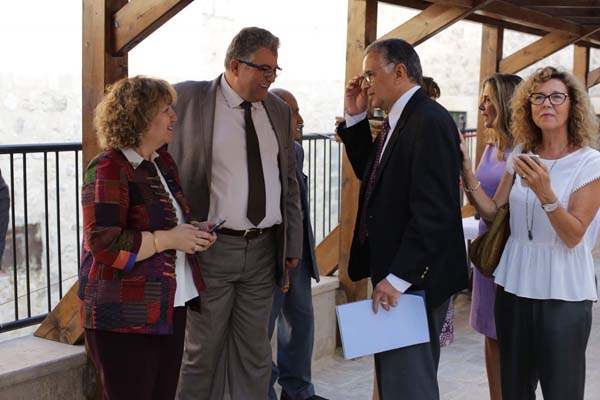 JERUSALEM –Al Quds University President has called on Brazilian scientific and cultural institutions to establish ties with the university in order to strengthen the level of knowledge students obtain in its hope for Brazil to join similar states that have already created cultural bridges with AQU.
Speaking at a ceremony where the government of the Republic of Brazil donated a large collection of books to AQU's Library in its Old City Campus, President. Imad Abu Kishek said, "These books, your country has generously provided for us, symbolize the deep and long bonds of friendship between the peoples of Brazil and Palestine. It is in this spirit that we invite you to put your hand in ours to build scientific, academic and cultural bridges through a partnership between AQU and Brazilian counterparts."
The Brazilian ambassador to the State of Palestine Mr. Francisco Barceló, highly praised Dr. Abu Kishek for the academic and scientific status the university has reached, and replied to the Al Quds University President's request by saying that "the Brazilian government aspires to develop a partnership with the university on the ground of exchanging cultures and strengthening mutual ties.
The Ambassador also added that choosing to donate these books to AQU's library in the Old City was no coincidence, stating that it was meant to signal Brazil's appreciation for and support of AQU's role in Jerusalem and its contributions to academia more broadly. The Ambassador also reiterated Brazil's support of the Palestinian people in their quest for statehood and independence, thanking AQU for hosting this ceremony which coincided with the advent of Brazil's National Day. From his end, Dr. Abu Kishek offered his best wishes and expressed gratitude to the Brazilians for "your support of our university and we cannot forget the historic friendship that exists between Palestinians and Brazilians."
Al-Quds University (AQU) is a national research university based in Jerusalem, Palestine. Established in 1984 as the only Arab university in the city of Jerusalem, AQU currently offers 93 undergraduate and graduate degree programs, taught through its fifteen degree-granting faculties.