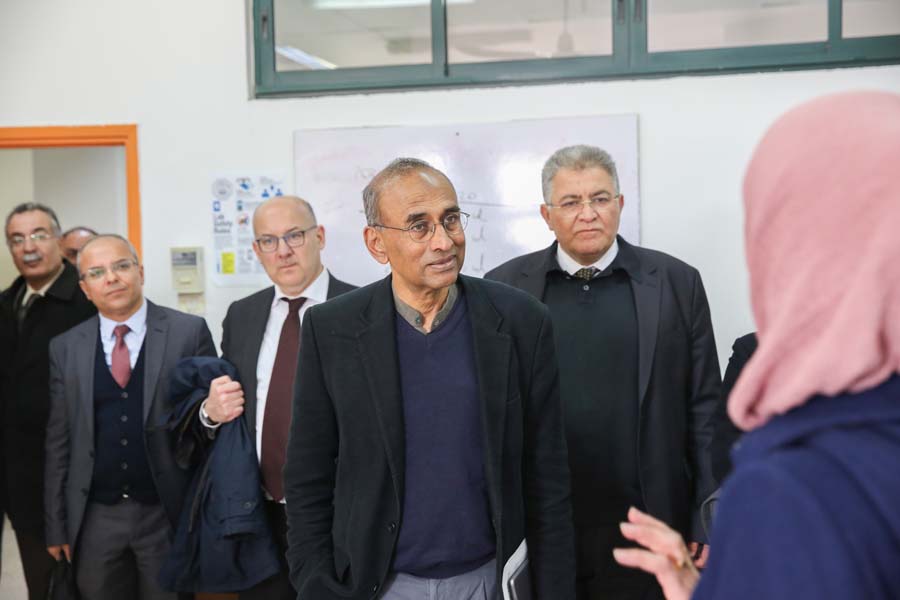 JERUSALEM | Al-Quds University (AQU) hosted Professor Venkatraman Ramakrishnan, the 2009 Nobel Prize Laureate in Chemistry and the current President of the Royal Society, UK.
AQU President Professor Imad Abu Kishek met with Professor Ramakrishnan and briefed him on the university's history, academic programs, and overall strategies. Abu Kishek particularly highlighted the university's ongoing efforts at developing scientific research both at Al-Quds and in Palestine more broadly. Abu Kishek explained to the guest the ongoing initiatives that aim at promoting the culture of entrepreneurship among students, which come as part of the University's efforts to build an ecosystem conducive for encouraging innovation and creativity.
"The rapid advances in scientific research at AQU, mainly in biomedical areas, is an important evidence of the University's ongoing transformation from being a mainly teaching university to a research university that is dedicated to excellence in teaching" noted Abu Kishek. In this context, he emphasized the need for close cooperation among scientists and scholars in universities and research centers across the globe to find solutions to the tremendous challenges encountered by societies around the world. Abu Kishek thanked Ramakrishnan for his visit of AQU and for his willingness to contribute to the advancement of research at Al-Quds and beyond.
Professor Ramakrishnan expressed pleasure to visit AQU and meet its leadership and researchers. He praised the university's academic programs and research contributions, as well as the students' achievements in various qualification exams, such as the medical licensing examinations. He also commended AQU's international partnerships, such as the unique partnership between AQU and Bard College in New York, which led to the establishment of Al-Quds Bard College.
Professor Ramakrishnan also advised AQU biology students that "biology is at a very exciting stage", urging students to "keep their eyes open and learn about what is going on by looking at magazines and journals and keeping up with what is happening in the world of Biology," noting that this field offers a real opportunity for the students in the long term.
The visit also included an inspiring lecture that was attended by several of AQU's senior researchers in natural and life sciences. Professor Ramakrishnan particularly highlighted his contributions in the area of ribosomes and their medical significance and implications.
It is worth noting that Professor Ramakrishnan's visit to AQU's campus was organized in cooperation with the British Council in Ramallah, as part of the joint cooperation programs between both institutions.
Al-Quds University maintains a wide range of academic and research cooperation relations with prominent scholars at several high ranking universities and research centers around the world. These partnerships are intended to develop the university's academic programs and research projects and contribute to facing challenges and solving problems globally.