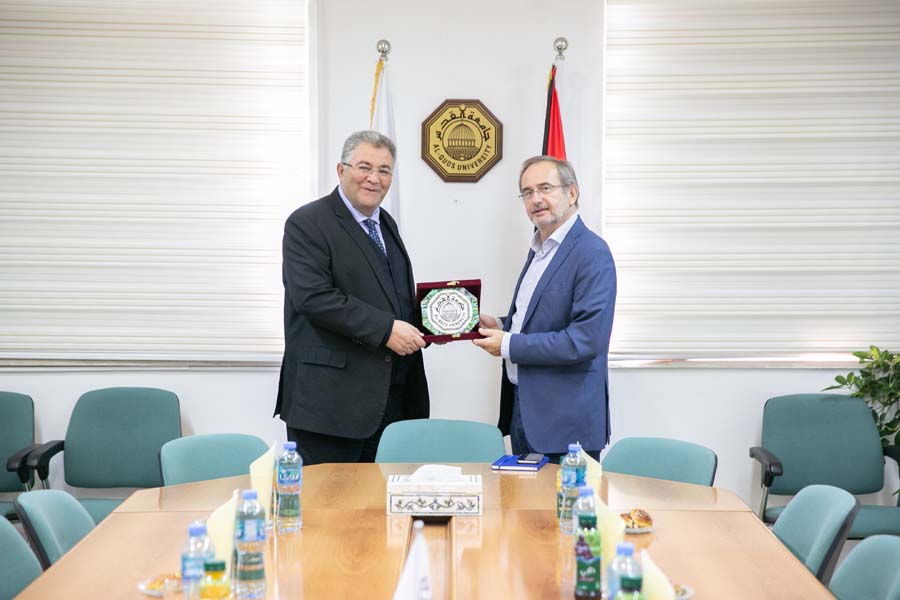 JERUSALEM | President of Al-Quds University (AQU) Professor Imad Abu Kishek met in his office on the main campus with the representative of Enable-Belgian Development Agency Mr. Bart Yuttendaele who visited the university to discuss ways for promoting Jerusalem's economy.
Professor Abu Kishek welcomed the Belgian official, stressing the importance of cooperation between the university and international agencies to promote the economy of Jerusalem. He briefed Mr. Yuttendaele on the various services AQU provides to the Palestinian community of Jerusalem. In this context, Abu Kishek cited the various partnerships the university has forged with a wide range of international institutions to attain this objective, within the AQU's strategy of empowering the Arab residents of the city and accelerating overall growth in it.
Mr. Yuttendaele, for his part, highlighted the policies of the Belgian Development Agency with regard to the development projects they have been sponsoring in Jerusalem and the agency's future schemes in the city. He stated a number of Belgian projects that are related to the empowerment of Palestinian women, the training of school dropouts, and the renovation of school buildings in the Old City of Jerusalem.
Enable-Belgian Development Agency supports development projects across the globe to eradicate poverty. Doing so, it helps build a world where women and men can live under the rule of law, have equal access to quality public services, and pursue their aspirations
As part of its social responsibility, Al-Quds University seeks to support Jerusalem by improving the life conditions of its Arab residents. The AQU's Community Action Center, among other affiliate centers within the city, strive to enable the Arab community of the city to withstand challenges and live a decent life.