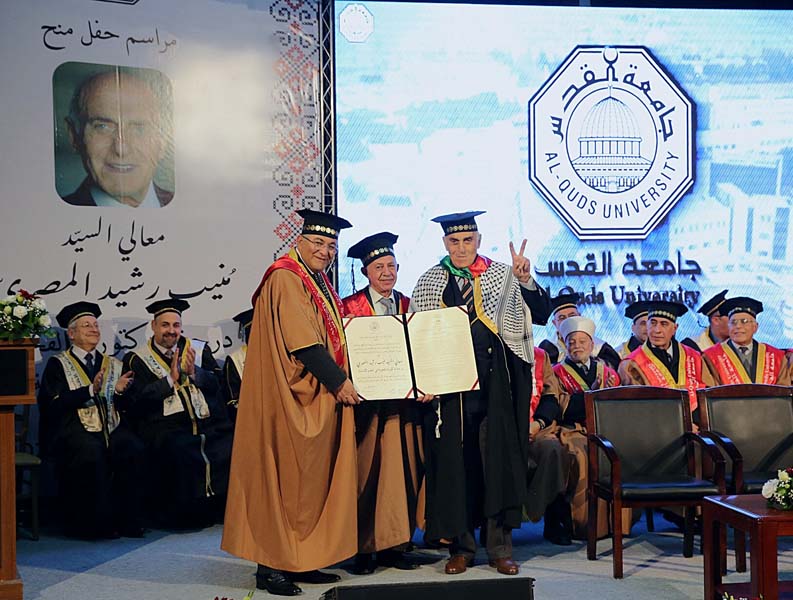 JERUSALEM | In a grand ceremony held on the main campus, Al-Quds University conferred honorary doctorate degree in Humanities upon prominent Palestinian business leader and philanthropist Mr. Munib Rashid Al-Masri.
The event was attended by Palestinian officials, representatives of foreign missions in Palestine, AQU's leadership and academics, Palestinian businessmen, NGOs' representatives, among others.
Al-Masri was awarded the "honoris causa" doctorate in recognition of his lifetime achievements, humanitarian stances, and generous support to educational and health institutions inside Palestine and in the Arab region.
In his speech, President of Al-Quds University Professor Imad Abu Kishek congratulated Mr. Al-Masri on receiving the honorary doctorate, stating that the university "is paying tribute to Mr. Munib Al-Masri for his lifetime contributions to the Palestinian people and institutions, to AQU in particular".
In this context, Abu Kishek stated that Al-Masri is the co-founder and supporter of several programs that serve Jerusalem and its Arab institutions. He cited examples of Al-Masri's contributions, such as the AQU's main library, Al-Quds Academy for Scientific Research and the Quality of Education, and Al-Quds Waqf Fund.
Member of AQU's Board of Trustees, Dr. Mohammad Al-Alami, read the citations for bestowing the honorary doctorate on Al-Masri. He stated that the university is specifically indebted to Al-Masri for enhancing the quality of scientific research in Palestine, which was implemented on the ground by co-founding and supporting several of the university's programs and centers. He added that Al-Masri continues to play instrumental role in the establishment and support of several programs within Jerusalem and elsewhere in Palestine and the Arab world.
Mr. Al-Masri expressed his deep gratitude to AQU for conferring upon him the honoris causa degree, praising the key role the university plays in promoting academic education and scientific research in Palestine. He noted that AQU's valued initiatives and programs have always been crucial to sustainable development in Palestine and its capital Jerusalem, pledging to continue to support the university in its quest for excellence at all levels.
An outstanding and well-known figure in various areas, Al-Masri's decades-long contributions have spanned the spheres of economics, education, politics, charity, and community welfare, both within Palestine and in the Arab world.
Dr. Munib R. Al-Masri was born in the West Bank city of Nablus in 1934. He graduated from the University of Texas in 1952, with a bachelor's degree in Geology and a master's degree in International Affairs and Relations. He is a board member of the Arab Bank and Palestine Telecommunications Group, and Chairman of PADICO Group Holding. Al-Masri is an ex-chairman of Al-Quds University Board of Trustees, and he chairs the Palestine Forum. Al-Masri served as the Jordanian Minister of Public Works in 1975.